Security Guarding Services Bangkok, Thailand
Alistair Rider
General Manager
25 years in Thailand
Whether in Bangkok or elsewhere in the world, the Security Guard is usually the first contact a visitor or employee has with any given organization.
Apart from the necessary attributes of honesty, alertness, discipline, loyalty & courage attitude is also a very important element of the guard's everyday behavior and function.
Courtesy towards visitors and employees goes a long way in eliminating friction, and by demonstrating consideration, the Security Guard can obtain the cooperation of others which is essential in the guarding profession when answering questions, giving directions and enforcing regulations.
Restraint, composure, respect, acting without haste or undue emotion and being tactful are other important attributes. In the training of Security Guards they should be constantly instructed to remain calm, dignified and respectful towards others rather than project a belligerent, offensive or offensive behavior.?
Depending on the duties to be performed by Security Guards will determine the scope and nature of the training program required. Training is a very important part of Risk Protection's Guarding Division operation.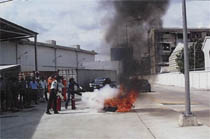 All Risk Protection's guards receive comprehensive training and evaluation before they go on site duty and to ensure their guards are fully prepared and assessed they undergo a highly respected training program which was formulated by the Security Industry Training Organization (SITO) of the UK. Established in 1990, SITO has become a world leader in the development of qualifications and training packages for the security industry. SITO is the only independent training organization recognized by the UK government that provides comprehensive courses, examinations and certification around the world to ensure the availability and consistency of training and qualifications for security personnel.
Consequently, Risk Protection's guards are not only promoted and assigned to various posts through experience but also by qualification.
Another upswing in the training of guarding personnel is that it creates interest, confidence and job satisfaction. Guarding can sometimes be highly complex and demanding as well as on occasion, mundane. Comprehensive training can instill and generate the correct attitude and knowledge required by Security Guards to perform their daily task of protecting people, property and assets.
Coupled with this training policy to provide clients with a first class guarding service is Risk Protection's Guarding Package which in essence provides a practical hands on approach by combining alarm system operation and guarding services.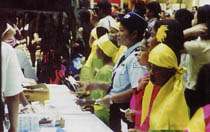 One important factor of the Guarding Package is Risk Protection's Alarm Receiving Center (ARC). By utilizing the ARC they are able to monitor guarding sites and supplied Guarding Package security equipment – 24 hours a day.
As part of the Guarding Package, every site has an Emergency Button which will activate an immediate Level One police response should the guards(s) be under duress and assistance.
Furthermore, a Management Box was created to not only log on and off personnel at shift changes and record all inspection visits, but to also ensure vital site equipment is checked on a regular basis. In other words this allows immediate action to be taken should a problem arise which otherwise may have gone undetected until actual equipment failure or serious damage had actually occurred.
Clients on the other hand find that by combining guards and alarm systems not only provides better all round security but is also economically advantageous.
For example, one well established company and now client of Risk Protection previously used only guards to protect their manufacturing and warehouse site. By installing an alarm system they were able to reduce their manpower requirements and, by doing so, the manpower savings were used to offset the cost of installing the alarm system that in effect increased their level of security without increasing their overheads or capital outlay.
Total Views: 2623 ,