CCTV THAILAND SYSTEMS
Cm9500
The Pelco Cm9500 Coaxitron Matrix has become a staple within video security and video surveillance installations — a standard against which all other systems are judged. There are more Pelco video system protecting out business, hospitals, casinos, vacation spots, and institutions than any other.
This microprocessor-based, cross-point video switcher offers complete operation and management control for today's medium to large CCTV systems.
The CM9500's easy-to-install, easy-to-operate modular design can be configured to address most any surveillance need. In its standard configuration, the CM9500 will accommodate up to 208 camera inputs, 16 monitor outputs, 64 alarms, and 32 relay outputs — all controlled and accessed by as many as 8 independent operator keyboards. Complete video looping capabilities are available with the use of the Cm9516L looping input card/collection panel.
The CM9500 keyboard offers an adjustable LCD viewing screen and ergonomic design for comfortable, easy programming and complete system control. An operator can control all camera and lens functions, maneuver variable-speed(or fixed speed) remote positioning devices and perform camera-to-monitor video switching from a single keyboard/controller.
CM9500 user-programmable features include a Printer Interface for printed, hard-copy status reports fo the system's operations; user-friendly Drop-Down Menus for programing functions such as Presets, Sequences, Tours, Events, Alarm Programming and Relays. Editor Lockout is included to ensure that programming cannot be overwritten by two users at the same time.
Built-in Password Priority enables any degree of flexibility required to manage operator restrictions and capabilities from the system keyboard. Priority, partitioning and lockout are all user programmable at the highest level of priority — ensuring complete system security.
Pelco's exclusive Coaxitron technology makes every installation easy. Through Coaxitron, the camera's video signal and the full-function video control information share the same coaxial cable-eliminating the need for installing separate video and control wiring.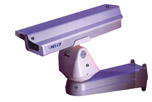 Legacy
Pelco developed the Legacy system of environmental enclosures, pan/tilt units, receiver drivers and mounts with the needs of the CCTV installer foremost in mind Legacy offers by far the most time – efficient and cost – effective technologies ever brought together into one camera housing and positioning system.
From the beginning it is obvious that Legacy is different. The clean, contemporary look of the system makes it a quick choice for complementing any architecture. In addition, the two-tone gray polyester powder coat finish is not only attractive, it's extremely durable – providing complete protection in even the most harsh of weather conditions. And with Legacy, all weight load requirements have been precalculated. Simply choose the enclosure and optics package that fits your needs and the system is ready for installation.
The absence of any additional "electronics" boxes also is quite obvious. Legacy has been designed around a system of complete internal wiring — providing for a very fast, error-proof installation that's completely protected. The RediLINK system of internal connectors takes care of all power, video and control connections. As the enclosure is mounted to the pan/tilt unit, simply slide the unit into place, tighten two screws, and all connections are made automatically on gold – plated, corrosion-proof pins.
The receiver/driver electronics for the unit are installed completely within the Legacy System mount arm. This lightweight, NEMA -4 rated mount conveniently opens from the bottom, allowing for full access. A simple 3 wires power connection located within the mount, supplies power to the entire positioning, enclosure and optics system.
At the heart of every Legacy pan/tilt unit works a Delrin worm gear. Delrin is a nonmetallic material chosen for its no-lubrication necessary reliability and outstanding performance. Each pan/tilt unit is manufactured with precision fit tooling standards, ensuring the absolute minimum in motor drag for a long operational life. All Legacy components are backed by a complete 2- year factory warranty including Pelco's unprecedented On Time Shipment Guarantee, One-Day Service Guarantee, and 24 hour Person-to-Person Technical Service.
Spectra
Performance Features
Every Spectra unit features an integral, high-performance camera and optics package, full pan/tilt positioning mechanism, and extensive receiver electronics – each unit-tested, and pre-installed into a single package. The end result is a small, quiet and attractive dome that offers quick 360 rotation as well as high-speed and variable-speed capabilities ranging from a blistering 250 per second pan motion to a very smooth, very quiet "creep mode" speed of ? per second.
This remarkable agility, combined with Spectra's high-resolution optics package and Auto Focus technology allows for the seamless tracking of moving subject. When system patterns, presets or alarms are utilized, Spectra responds instantly with pinpoint accuracy. And with Spectra, Pelco engineers have achieved complete distortion-free horizontal viewing, including full monitor screen scenes even when the camera is in a completely flat position.
When installing a Spectra ceiling-mount unit, you'll first notice how the all aluminum, plenum-rated back box is surprisingly small and easy to work with. Requiring only 5.25 -inches of space above the ceiling, and only 3.5 -inches below, the back box can easily be install4ed from the exposed side of the ceiling. With no access required from above. An easy-access "trap" door located inside the back box provides instant access to all power, video, control and alarm terminal blocks.
Optics
The optics package of every Spectra dome includes either a high-resolution color or high-resolution monochrome camera. These remarkable 1/4-inche CCD, cameras provide amazing picture quality, while taking up a small amount of space. The lens section features a 12X optical and 8X electronic zoom capability, providing an effective zoom factor of 96X.
And, of course, every Spectra enclosure responds with remarkable reliability and pinpoint accuracy by making use of technologies such as full Auto Focus and Auto Iris – each with manual override.
Our pendant-mount systems feature a sealed lower dome for IP65 (NEMA 3R) rating. For applications requiring an IP66 (NEMA 4) rating, a heavy-duty lower dome is available.
Receiver / Driver
Spectra receivers are one-hundred percent compatible with all Pelco Coaxitron controllers, as well as Pelco System 9750 or 9760-style controllers — including RS-422, and RS-485 protocols. There is even an auto scan feature that can be initiated with soft limit stops. Complete, 20-character, Zone Titling is included to assist users in quickly and accurately identifying camera locations. The lower dome assembly includes an acrylic bubble and appropriate trim ring assembly. Bubbles are available in clear, smoked, chrome or gold mirrored models. Because Spectra makes use of a black rotating liner, a clear bubble may be used to minimize light loss while preserving a discreet appearance.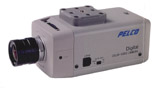 Cameras/Monitors
Enhanced CCD Sensor
Pelco's Enhanced CCD Sensor offers a remarkably high level of CCD sensitivity – by making use of a rather simple concept. Our Enhanced CCD Sensor is actually comprised of a layer of micro-condensing lenses positioned just above the chip's photosensitive layer. This layer of "micro" lenses gathers, condenses and focuses image information directly onto the CCD's individual cells – greatly increasing overall light/image sensitivity and allowing for high quality pictures to be captured in very low light conditions.
Back-light Compensation
Back-light Compensation offers an effective solution for situations where a bright light source is back-lighting a subject of interest. A classic example of this is a doorway where a camera is positioned to look at someone coming in from outside. Without Back-light Compensation, the person would appear as an unidentifiable dark silhouette. Back-light Compensation is also effective in improving picture quality (when viewing oncoming traffic or outdoor ATM locations). In addition, Pelco's Intelligent Image Management technology automatically and intelligently controls iris, gain and white balance information based on a type of "fuzzy" logic. This logic allows cameras to find optimum picture conditions and automatically adjust light level compensation – obtaining clear pictures with the finest detail possible. Pelco's Back-light Compensation feature is independent of object position, and no setup is required.
CCD Iris Function
This newly-developed technology enhances the cost-effectiveness of Pelco cameras by reducing the need for expensive automatic iris lenses. A camera equipped with CCD Iris technology is able to automatically adjust its electronic shutter speed (from1/60 to 1/100,000 of a second), in response to a variety of incoming light levels– making Pelco cameras a perfect choice for a wide range of CCTV camera applications. For additional light level control, all Pelco 1/3-inch cameras are equipped with an industry-standard four-pin auto-iris connector.
AC Line Lock Capability
Provides external synchronization, making installation into new and existing systems easy. This is a feature on a camera which enables it to synchronize its video output with the AC power line. When multiple cameras are connected to the same phase of power, this line feature makes it possible to have roll-free switching between cameras.
CS/C-Mount Capability
All Pelco 1/3-inch cameras feature precision double-cam C/CS lens mounting heads, eliminating the need for C-mount adapters.
PMC14E High Resolution Color Monitor
This 2-channel, 14-inch, color, high-resolution monitor is extremely affordable and very easy to work with. Switching between the two inputs is accomplished through a simple A/B button located on the front panel, or through the use of the Auto-Switching feature which includes an adjustable dwell setting. The PMC14E supports both NTSC and PAL video, as well as 120 VAC and 230 VAC input power, Simple push-button selector switches make all the necessary changes for adapting to the required formats.
In addition, the PMC14E features looping BNC inputs and outputs as well as VCR video and audio inputs and outputs. The monitor's S-VHS, high-resolution video(greater than 480 horizontal lines), and comb filter add to the superior picture quality features of the product.
It is our goal to offer the best selection of high-quality CCTV monitors for the security and surveillance industries. From small, rack-mountable monitors designed to deliver a great picture in tight spaces, to large-format monitors that know how to deal with today's demanding multiplexer and quad displays. For more details please.
Products Brand :-
Total Views: 16937 ,