Garrett Magnascanner CS 5000
Microprocessor Circuitry for Programmed Sensitivity Touch-pad Controls/LCD for Operating Ease.

Microprocessors in both detection and control circuits ensure sensitivity and flexibility of programming never before possible in a metal detector. The Magnascanner CS offers an almost infinite number of precise and resettable program/sensitivity settings, enabling it to respond more effectively to weapons while ignoring harmless objects. Uniform detection from archway to floor meets the latest requirements of the Federal Aviation Administration and law enforcement testing agencies.
Touch-pads and an LCD that clearly reports all calibration and operating information simplify operations. A dual-level system of access codes enhances security while eliminating bothersome keys. Additionally, the new detector offers multiple phase frequencies and other features such as variable tone settings to facilitate slaving and multi-unit operations. For more details please Contact us.
Garrett Magnascanner PD 6500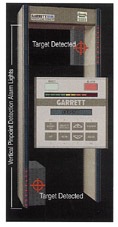 The Magnascanner's unique multi-dimension coil design and its simple, easy to interpret alarm displays provide for the ultimate in precise target location identification. Pinpoint Detection assists the operator in quickly identifying the exact location of the alarmed target whether on the left, center, or right side of the body from head to toe.
The PD 6500's advanced target discrimination capabilities and reduced interference susceptibility minimize false alarms, while precise, zone by zone sensitivity adjustment provides maximum flexibility for any requirement. You get reduced operator time, more effective screening, and increased total system throughput.
The detector's unique entrance side Pacing Lights alert patrons when the detector is ready for screening, accelerating traffic flow and reducing operator workload. For more details please Contact us.
Super Scanner "Weapons/Metal Detector"
World's Most Acclaimed Body Scanning Detector is Now Even Better!
Garrett's Super Scanner, the metal detector that set the world's standard for hand-held body-scanners, is now even better! Just press the ON switch, and its automatic circuitry will detect all concealed metal weapons including the smallest knives and guns.
The Super Scanner features automatic tuning and battery check. No adjustments are ever necessary. When a target is located, the unit provides both an audio and signal and a visual alarm.
This favorite of security and law enforcement professionals everywhere had been improved with the addition of a Reduced Sensitivity mode for scanning near rebar floors, a new Grip for greater handling ease and an improved End Cover that lets you change batteries without tools.
Accessories include an earphone for "silent" scanning, Ni-MH rechargeable battery kit with recharger, and a sturdy holder for belt or patrol car mounting.
Total Views: 5539 ,