An integrated building management system provides all the information and executes all the necessary decisions for the secure and efficient running of a building.
ATS provides truly integrated solutions which employ a common database and where all devices talk the same language and share a common network.
The result is an intelligent security and building management system which is seamless and reliably efficient in operation.
SOFTWARE AND SYSTEMS
Reliable software is the essential foundation of any computerized control system. DIGIcontrol-2000 utilizes the industry standard Windows 95 and Windows NT TM operating systems to provide a powerful, easily understood graphical user interface.
Detailed building maps form the basis of the user interface, with appropriate event and status information superimposed. Dynamic icons and plain language make for clear and unambiguous communication. Operation is so straightforward that users rapidly become conversant with the system and require very little training.
Distributed intelligence throughout the system ensures resilience of operation so that individual field devices retain a high degree of functionality in the event of network or computer failure.
The system is configurable on-site for maximum flexibility and it offers single or multiple workstation capability for use with industry standard networks.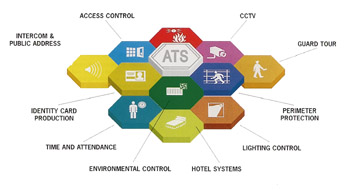 ALARM MONITORING
Computerized alarm monitoring running over the shared network provides the basis for the complete intelligent building system and incorporates the principal functions of intrusion, fire and panic alarms as well as plant monitoring.
The ATS system supports 5,000 alarm points connected to alarm panels, dedicated digital and analogue input units and auxiliary inputs on door controllers. Graphic displays and simple on-site configuration options result in an outstanding easy to use system.
ACCESS CONTROL
Providing the functions required of a modern and flexible access control system, its modular design enables it to handle up to 30,000 people. Integration with the ATS digital imaging and CCTV systems allows automated picture retrieval on access requests.
Fully distributed intelligence means that all decisions are made at the door so that event anti-pass-back functions continue as normal in the unlikely event of computer failures.
CCTV
The CCTV monitoring and control system can be fully integrated with the ATS alarm and access control network to achieve extensive automated surveillance capability. This seamless integration is unique to ATS  enables switching and control functions to operate as normal even if the computer fails.
Features include intelligent matrix switching, real time CCTV display on multiple computer workstations, variable speed camera control, preset positioning programs, precision pan and tilt heads and long range video transmission equipment.
PERIMETER PROTECTION
Perimeter protection provides the vital first line of defense in any security system. Automated control of doors, gates and barriers is essential in maintaining integrity of the perimeter.
ATS provides data collection equipment capable of connecting to most intrusion detection sensors leading to full integration with the alarm monitoring, CCTV and lighting control systems.
INTERCOM AND PUBLIC ADDRESS
The modular 512-station intercom and public address system can be integrated with the access control, CCTV and alarm systems over the network.
Supporting handsets, integrated door stations and loudspeakers, it also offers videophone capability and digital voice recording. In conjunction with the access control system, automatic call forwarding can be achieved.
GARD TOUR
An on-line system, working in conjunction with the access control and alarm systems to provide real time monitoring of the progress of one or more guards on patrol. Further features include route management. Tour allocation and history reporting.
IDENTITY CARD PRODUCTION
Fully integrated within the access control database, the ID card production system offers a wide range of benefits including digital image storage, dynamic color settings according to access rights and direct card printer support. Cards can be produced in as little as two minutes and the system allows users to design their own card layout.
TIME AND ATTENDANCE
A range of time and attendance recording systems for up to 15,000 employees from simple time-on-site reporting to fully featured packages supporting fixed hours, shift and flexible working patterns.
The systems operate using either access control readers or special time and attendance terminals with information displays. A wide range of card and biometric technologies are supported.
LIGHTING CONTROL
The modular ATS computerized lighting management system supports automated switching of up to 1,000 lighting circuits. Intelligent light switches and networked light fitting and distribution board controllers provide a flexible distributed control system.
Other features include automated time zone control, energy cost management capabilities and integration with access control and alarm systems. Energy monitoring also enables peak demand reduction by switching off unnecessary appliances.
ENVIRONMENTAL CONTROLS
Facilitates individual room control of heating, lighting and air conditioning. External lighting and temperature levels are monitored and internal adjustments are automatically calculated and triggered. Access control and alarm monitoring can also be handled by room controllers. Energy saving features work in conjunction with access control and room occupancy information.
HOTEL SYSTEMS
ATS integrated hotel room controllers combine the dual role of access and environmental control with significant energy saving benefits.
Together with message waiting and room status information they can form part of a total hotel management system interfacing with guest accounting, administration and front desk programs.
Total Views: 2366 ,