Certificates of Merit for Risk Protection Guard.
Risk Protection Guards with certificates
The continuous training and upgrading of guards is paramount in the guarding industry. At Risk Protection (Thailand) Ltd. all guards are encouraged to improve their knowledge and understanding of guarding duties. At a recent award winning ceremony at Risk Protection's training facilities, three guards who attained grade 'A results in guard training courses from the UK were awarded Certificates of Merit and cash prizes for their endeavors.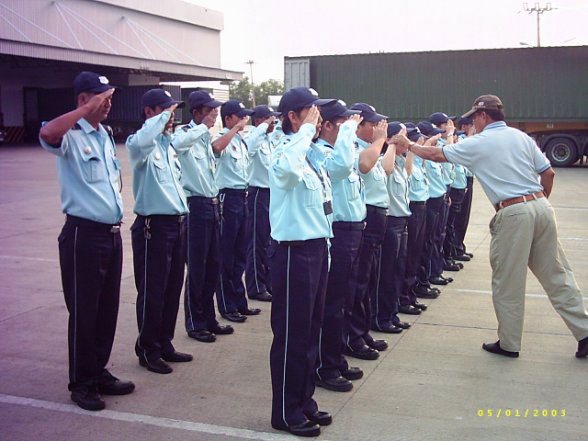 At the awards presentation, Alistair Rider the General Manager of Risk Protection's Guarding Division said, "Guard training is a crucial part of our operations and through our sister company in Hong Kong we are delighted to be associated with he Security Industry Training Organization (SITO) UK Ltd.
SITO has the only guard training program recognized by the British Government. They not only provide a solid basis for training but also offer instruction in selecting the right candidates to fill guarding positions, which is an extremely important factor.
To offer a first class service and compete in Thailand's guarding industry we have set high standards for our guarding personnel. Regardless of working experience, we will not employ any guard who does not achieve a 60% pass mark in our post-training exam. Interestingly, it is often the most experienced guards from international based companies who have the greatest difficulty in meeting our criteria.
On behalf of Risk Protection, I would like offer my congratulations to our award winning guards namely Khun Banpan Khumlek, Khun Nolinee Topraiprukson and Khun Rungsan Koripupat, well done.
Total Views: 6043 ,