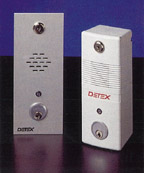 Exit Alarms
EA-2500S, EA-2500F, EA-500, and EA-500F
Enclosed in high-impact polymer housings, Detex Exit Alarms announce the unauthorized use of a door with a 95 decibel directional alarm. When linked to a Detex remote indicating panel or gang zone annunciator, the alarm also alerts a central security station. A special key allows authorized personnel to use the door freely, and an adjustable time delay gives ample time to exit and also functions as a "door propped open" alarm. Both the AC-powered and battery-powered models adapt to narrow stile doors and frames and install easily with ordinary tools. Both models are suitable for retrofit or new construction, come in surface mount and flush mount designs, and carry a one-year limited warranty.
Exit Control Locks
ECL-8010 and 8015
The battery-powered ECL-8010 and the ECL-8015 Re-latching Exit Control Locks offer unsurpassed economy and electronic reliability. They are ideally suited for low traffic, remote locations where AC power is not available. Microprocessors control both units for dependable, instant response, and the tamper-proof cover and heavy-duty lock and bolt mechanism resist the most aggressive efforts to defeat them. The unit requires an authorized key for resetting and carries a one-year limited warranty.
ECL-8010W
The battery-powered ECL-8010W Wetlock is specifically designed for outdoor installations. Resistant to the elements, it provides affordable, reliable protection even when exposed to rain, select. snow, or heat. Incorporating a tamper resistant lock mechanism and high decibel alarm horn, the ECL-8010W will perform where other locks succumb to the elements. The ECL-8010W Re-latching Exit Control Lock requires the use of an authorized key for alarm resetting. The unit is covered by a one-year limited warranty.
ECL-8030
The ECL-8030 is an AC-powered, non-handed re-latching panic hardware device that incorporates a nuisance timing feature that prevents false alarms. Three different alarm sounds distinguish between delay and release-ready periods and for unauthorized exit. Once unauthorized exit has occurred, it can be reset by an authorized person with a key. The ECL-8030 is covered by a one-year warranty.
ECL-8050
The AC-powered ECL-8050 ThriftlockTM Alarmed Re-latching Exit Control Lock combines legendary Detex performance and rugged construction with the reliability of a microprocessor. A saw-resistant, hardened bolt thwarts unauthorized entry, while a high-decibel, solid-state horn announces emergency egress. The horn can be silenced only by an authorized key and the unit carries a one-year limited warranty. When used with the ECL-8050 or any Detex exit control lock, the DDH-2250 double door holder controls out-swinging double doors.
ECL-230D
This is the latest improvement of our basic unit that has set the industry standard for more than a quarter century. The ECL-230D features two layers of protection: an attack-resistant housing of non-corrosive cast aluminum and a corrosion-resistant, non-ferrous alloy lock body. We designed the unit for easy installation and service on either side of a door. The back-plate serves as a template for both mounting and setting the distance for the bolt and keeper or strike. When service is required, the one-piece housing swings away from the door assembly for easy access. For out-swinging double doors and on single doors when three-point latching is desired, exit control is provided by the VRA-143 Series unit. The ECL-230D is covered by a five-year warranty.
ECL-230D-PH
The ECL-230D-PH includes all of the features of the workhorse ECL-230D including a one-inch deadbolt. With a longer bar and paddle, the ECL-230D-PH can accommodate doors 36″ to 48″ wide. The ECL-230D-PH is covered by a five-year warranty.
Access Control Systems
Detex's famous Dentco Series of access control systems offer you a wide, very affordable choice of security levels for single-door applications.
Installation and maintenance of a Dentco unit is remarkably easy, and standard access control cards are always available from Detex. Cards may include a photo ID if desired.
Dentco III DS-1915,DS-1916, &DS-1950
Dentco III single-door access control units are available in keypad (DS-1915), card reader (DS-1916), and swipe reader (DS-1950) models. The keypad model can be programmed with up to 20 active codes, the card reader unit has a 512-card capacity, and the swipe reader can process 512 different card codes. All three models have programmable strike times, can be surface or flush mounted (DS-1950 surface mount only), and have an LED that indicates the active/inactive status of each code. Adding and removing access cards or codes is a simple procedure, and all units carry Detex's one-year limited warranty.
Dentco II DS-1605
The Detex Dentco II single-door access control stops unauthorized entry and can document authorized use by downloading Dentco II's long-term memory to a serial printer. The versatile system only permits entry to those with a personal access code, and ID card, or combination of a card and an access number. Each unit has a 900-card capability with 16 million unique codes. Remote strike activation allows the door to be opened from a central security station. The unit's self-diagnosing feature continuously monitors circuits for trouble and a tri-colored LED provides an instant system status check.
Accessories
Detex Remote Indicating Panels instantly alert security personnel when a door opens. Economically designed for small to mid-size facilities, the units allow security personnel to constantly monitor use of distant door. Bright LEDs precisely indicate where there is an intrusion. When connected to other Detex security hardware, the Detex Remote Indicating Panel sounds an alarm at the panel and/or a remote location.
RIP-1100L
The RIP-1100L is economically designed for small to mid-size facilities. Security personnel can monitor up to eight doors, and units can be combined to monitor additional locations. The RIP-1100L is compatible with other Detex security hardware and equipment manufactured by other vendors. The unit was recently enhanced with new alarm latching, silencing, and reset features that provide unparalleled capability for remote monitoring at an economical price.
ES-600 Series
The ES-600 Series provides state-of-the-art alarm monitoring in a compact economical package. Standard and optional control electronics are organized into four zone modules which can be grouped to provide a wide range of monitoring capabilities. These modules offer Latch Control (standard) and Zone Shunt. All unshunted zones operate normally. The ES-600 Series Gang Zone Annunciators come with a one-year limited warranty.
Magnetic Door Switches
Detex magnetic door switches are sensing devices which detect the opening of doors. You can use them as direct switches to actuate many kinds of visual or audio alarms, including our exit alarms, or connect them to a remote indicating panel to alert a central guard station. The switches can be surface or mortise mounted overhead or at the latch, and can be used with most steel, aluminum, or wood doors and frames. Hinge switches also are available.
Battery Eliminator
The BE-961-1 and BE-961-2 Battery Eliminators increase unit and door security when used as a battery substitute for exit control locks such as the Detex ECL-230D. It features internal monitoring circuits that sound an alarm in the event of tampering. The BE-961-1 and BE-961-2 Battery Eliminators provide both 6VDC and 9VDC outputs; a 12VAC 25VA transformer is included.
Total Views: 5495 ,