Burglar Alarm Systems & Central Station Monitoring
A. Photoelectric Detectors Improved with OPTEX Innovation to Provide Advanced Performance in Outdoor Detection. OPTEX Photoelectric Detectors with Innovative Features for Easy Installation Provide Stable Performance against False Alarms for More Effective Outdoor Detection and Non Security Applications.
The OPTEX AX-100/200 Photoelectric Detector Series is the next step in Outdoor Detection and will satisfy all the needs of both users and installers. OPTEX unique technology and design provide a wide range of functions that greatly simplify installation and maintain reliable performance even in many adverse weather or environmental conditions.
The OPTEX AX-100/200 Photoelectric Detector Series
1. Quick Optical Alignment
Alarm Indication LED in Viewfinder The alarm condition is visually displayed using an alarm indication LED which is visible on the front of the unit and acan also be seen through the viewfinder
Clear Viewfinder Visibility A conveniently placed viewfinder allows for easy alignment even in some of the most difficult mounting situations.
Fine Angle Adjustment for Alignment The rotating dial allows the installer to finely adjust the beam easily either horizontally (180 degree/+- 90 degree) or vertically (10 degree/+- 5 degree) with or without the use of a screwdriver (finger adjustable).
2. Reliable Performance
Lightning & Surge Protection An improved EMI surge absorber and high surge resistiveness relay will maintain stable operation even in the most lightning prone areas.
Rain, Dust & Insect Protection The Rubber O-Ring & Rubber Grommets used in the AX-100/200 PLUS & ALPHA Series prevent rain, dust and tiny insects from adversely affecting performance.
Frost & Dew Protection An anti-frost and convex visor design is incorporated to protect the detector from effect of frost & dew.
High Grade Aspherical Lens The high grade aspherical lens creates more sharply defined & precise infrared beams compared to ordinary Fresnel lenses.
Twin Synchronized Pulsed Beams Designed for Greater Stability "And Gate" dual beams require simultaneous interruption of both beams to trigger an activation. No activation is generated when a bird or falling leaves break just one beam.
99.5% Beam Blocking Stability Enables stable operation with as much as 99.5% loss of beam energy caused by heavy rain, dust storms, fog or snow.
A.G.C. (Automatic Gain Control) Circuit The A.G.C. Circuit continually monitors for gradual changes in the signal's strength caused by changing weather conditions. It adjusts the sensitivity accordingly to maintain the proper signal level for the current environmental conditions.
Adjustable Beam Interruption Period The Beam Interruption Time (the amount of time a beam must be broken for an alarm to occur) can be adjusted to fit any application. For example, when protecting a wall or fence, a longer interruption time will catch intruders, but let jumping cats pass through without setting off an alarm.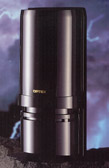 More detail contact us.
3. Design Durability
Highly Durable & Heat-Resistant Housing Cover & Chassis The housing cover & chassis provide higher durability against shocks, high temperatures and many other harsh environment conditions.
B . MA1008e Controls "Improved series of advanced hardwire/wireless controls with history logs & built-in siren drivers"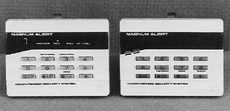 Advanced Features:
180 Event history log
Programmable telephone line cut supervision
Automatic interior bypass
Voice Priority for audio verification-Delays dialing and silences audibles during 2-way voice sessions
Disable service code by any user
All 8 user codes report individually
Control panel output for door chime
7-Day, 1-day, 8-hour or 1-hour programmable test timer
9 Fully Programmable Zones (8 EOL + 1 N/O) 7 burglary/fire (4-wire) + 1dedicated 2- or 4-wire fire +pani zone PLUS a wireless point expansion system of up to 8 points
3 Keypad-activated zones (silent or audible): Fire, Panic and Auxiliary
Powerful "built-in" 119dB multi-tone siren driver
Exclusive Sensor Watch Feature continuously monitors detectors for proper operation
2-or 4-Wire Smoke Detector Capability on dedicated fire zone
Alarm Verification on All Fire Zones
Key-switch input
Time-referenced event history log – Stores up to 64 events/month. Provides valuable troubleshooting insight by keeping a record of panel activity by time and date. Comprehensive activity report, including: programming adjustments, alarm and open/close reports
Beeper format
Wireless Ready – The MA1008e can be used to create a wireless, hardwire, or combination wireless/hardwire system with use of the fully-supervised Super Spectrum Wireless Receiver and complete line of long-life, lithium-powered transmitters. The 3500's Super Spectrum Superheterodyne Receiver has a simple 4-wire panel hook-up. It provides up to 8 points of wireless protection (each can be displayed at the keyboard)
More detail Contact us.
C. EQUINOX AM Anti Masking Feature
Detects movements at very close range and activates masking trouble output.
Self adjusting alarm threshold.
State-of-the Art Microwave detection technology.
Calibrated range adjustment 5 -15m (17-50ft).
To eliminate strip light noise (50Hz & 60Hz versions).
To reduce electrical noise.
Orange LED with a disable link.
Three frequencies available to improve performance and prevent interference between detectors when situating them close to each other is unavoidable.
10.687GHz red dot indicator on packaging.
10.680GHz green dot indicator on packaging.
10.695GHz pink dot indicator on packaging.
10.525GHz white dot indicator on packaging.
10.515GHz yellow dot indicator on packaging.
10.535GHz blue dot indicator on packaging.
9.90GHz orange dot indicator on packaging.
Reduces sensitivity without affecting range.
Total Views: 6371 ,